eOncology Report
Ipilimumab among treatment advances for metastatic melanoma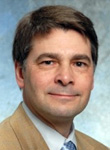 Medical director, Providence Melanoma Program
Medical oncologist, Providence Oncology and Hematology Care Clinic-Eastside
Of the three main types of skin cancer, melanoma presents the greatest public health problem, with incidence doubling approximately every 20 years in the United States.
More than 68,000 Americans were diagnosed with invasive melanoma in 2009, and 8,100 died from the disease. Disease-specific survival curves in all stages of melanoma have a negative slope, implying that metastatic disease can originate from thin primary lesions and that metastatic melanoma can develop many years after the initial diagnosis.
"

This was the first phase 3 study to show a survival benefit for any medical therapy in melanoma.

"
Up to 10 percent of patients presenting with stage I melanoma (primary site less than 1 mm in depth and no nodal involvement) will die as a consequence of metastatic disease within 10 years.
Disease recurrence can manifest years or even decades after the initial diagnosis. Metastatic melanoma has an especially poor prognosis, with fewer than 5 percent of patients surviving five years from the manifestation of visceral organ involvement. The potential lethality of early-stage melanoma distinguishes it from other solid tumors.
Many different systemic therapies have been tested for melanoma over the past 50 years, with generally disappointing results. Until this year, the U.S. Food and Drug Administration had approved only two medicines to treat metastatic melanoma: dacarbazine and interleukin-2.
Objective response rates for dacarbazine chemotherapy are between 8 and 20 percent in the medical literature, with a median duration of response of less than six months. Response probability with interleukin-2 is also low (approximately 15 percent), but it can induce durable remissions, albeit in a minority of patients. Providence Cancer Center is one of approximately 25 referral centers in the United States for this complex therapy and one of the busiest sites in the country.
A patient's story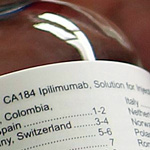 Shortly after ipilimumab infusions began, Karen Anderson's tumors began to shrink.
New insights on melanoma biology
Over the past five years there have been significant advances in our understanding of melanoma biology and how melanoma suppresses the patient's immune response to promote its survival. One of these insights came from the lab of James Allison, Ph.D., at Memorial Sloan-Kettering Cancer Center. His group discovered a normal regulatory protein in immune cells (T cells) called CTLA-4.
The normal function of the CTLA-4 protein is to turn off T cells and limit their life span so that the immune system does not attack normal organs after an immune response.
Dr. Allison's group made an antibody to block CTLA-4 based on the hypothesis that preventing T-cell death would result in better immune responses against cancer. They tested their hypothesis in murine models of melanoma and found that this antibody was highly effective in slowing the growth and in curing some mice with melanoma.
An antibody called ipilimumab was made to block CTLA-4 in human T cells. Providence Cancer Center and other cancer centers specializing in treating melanoma gave ipilimumab to patients with advanced disease. The treatment showed a significant benefit in survival.
These results were published in the New England Journal of Medicine and also presented in the plenary session at the American Society of Clinical Oncology meeting in 2010. Walter Urba, M.D., Ph.D., director of Providence Cancer Center, was the study's lead investigator.
Although only approximately 10 percent of patients had a radiographic regression of disease, there was a significant improvement in survival (hazard ratio 0.68, p=0.001 for patients receiving ipilimumab). This was the first phase 3 study to show a survival benefit for any medical therapy in melanoma. Based on these findings the FDA approved ipilimumab under the brand name Yervoy in March 2011.
Ipilimumab is for patients with advanced unresectable or metastatic melanoma and can be used as first- or second-line therapy. It is an intravenous infusion and can be administered in the outpatient setting. It carries, however, a potential for immune-mediated toxicities such as skin rash, diarrhea and endocrinopathies. These side effects require prompt and expert management.
Other areas showing great promise are drugs that target specific mutations in melanoma, such as BRAF V600E. Another drug, vemurafenib, also showed a survival benefit, according to a study presented at the ASCO meeting in Chicago last month.
Many questions about ipilimumab are still being investigated, including its use in earlier stages of melanoma; its activity in other malignancies, such as prostate cancer; and its effectiveness when combined with other medications, such as dacarbazine and interleukin-2.
Although ipilimumab is a significant advance in the treatment of melanoma, there is still much work to be done. The melanoma program at Providence Cancer Center has been a leader in this research area and offers a broad array of clinical trials for patients with melanoma.
Dr. Curti also is medical director of Providence Genitourinary Malignancy Research and Providence Biotherapy Program.